GB SHOW METTLE FOR MEDAL
GREAT BRITAIN added yet another medal to their recent haul in an ultra-tough FIME European Team Final. The battling GB team took Bronze behind Poland and Denmark in Stralsund on Saturday afternoon.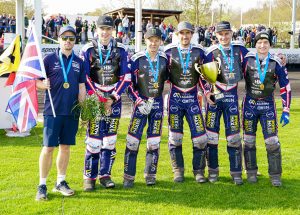 Images courtesy of Steve Hone Photography
It needed a really strong fight to claim a medal after a difficult start, the side toiled to find the right set-up on the German circuit.
Poland ran away with the title with 49 points from Denmark on 35, GB 22 and Germany 14.
Dan Bewley made sure that the Brits finished with a flourish and a couple of vital race wins to secure the medal.
GB team boss Olly Allen said: "I think the positive to take from the event is that every one of our riders got better as the meeting went on.
"The boys left disappointed, they wanted more than bronze obviously. But they all ended up with a positive feeling that they had made progress with the track.
"For some reason we were just behind the eight ball at the start. It took two rounds of races before we started to see changes in the performances due to bike set-ups.
"We were off pace at the start. It's nothing to do with equipment or talent, we just got it slightly wrong.
"Dan didn't feel like it was his set-up that wasn't right. He felt he wanted to ride the track a little bit differently.
"I felt that Tom rode really well. People might look at his score and question my judgment. But he did a good job. I really see the benefit in these meetings for Tom.
"There's been so much improvement in him in European Speedway. Tom held his own in very good company. In one race Bartosz Zmarzlik was second and Tom was third but he didn't lose any ground on him whatsoever. He also out-trapped Zmarzlik, so he can be very happy with the experience.
"All-in-all, I don't think the scores reflected everything."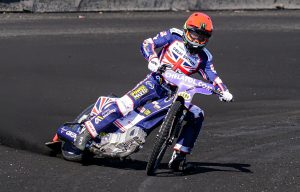 Allen was also quick to praise all the team for digging in for difficult tasks in both the semi-final and final.
He added: "Realistically bronze was an achievable target and we got it. We wanted more but that will always be the case.
"Overall it's been a very good experience. We had to beat the Czech Republic in Pardubice to qualify, and we did that. At the same time we had to outscore Sweden from their Semi-Final, we also did that.
"Then we had to beat the Germans, on their home track, to at least get a medal. So it's been a decent outcome over the past week and the boys should be happy with that.
"These days there aren't as many open meetings on continental tracks, so opportunities to race on a variety of circuits has dwindled for up and coming riders in the UK.
"That's partly due to the Ekstraliga now racing across more days and other reasons.
"That places even more importance on these FIM events for our more inexperienced guys."
Allen also admits that full attention now turns towards the FIM World Cup in July in Wroclaw with team places very much up for grabs.
He continued: "There's no getting away from it, Simon (Stead) and I are always thinking ahead to the World Cup with a five-man team.
"We want to win the World Cup, obviously. We would expect our top three to be Robert Lambert, Dan Bewley and Tai Woffinden. But the other two places are up for grabs. No one is nailed on.
"Therefore it is good to see everyone on the international stage. Richie Worrall's attitude has been brilliant.
"He had a tough draw going out after every track grade. I asked him in his last two rides to beat the Germans and he did it. He actually led his last ride for a bit and got involved in a battle and lost a couple of places.
"But his application is what we need from every British rider who wants to be part of the Great Britain set-up."