GB snap up youngster Lanning as their official photographer
IT'S 5am, pitch black on a freezing cold October morning in Glasgow. Taylor Lanning, aged 11, is sitting at the bottom of the stairs, dressed, wide awake and raring to go. By his side is his camera case. This young lad, grandson of legendary TV commentator Dave, is about to embark on a long trip that would change his life.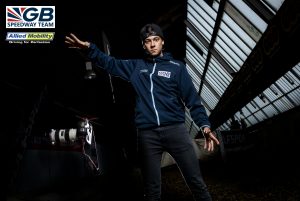 Later that day, Lanning took his first photographic images of just crowned World Champion Tai Woffinden as he raced against a Range Rover around the Leicester track for a story in The Sun newspaper. Little did he know on that bitterly cold autumn day that in just under six years, and on the eve of this year's Cardiff GP, he would be named as the official photographer for the Great Britain Speedway Team. When we catch up with him, Lanning is actually looking a tad uncomfortable having to be in front of the camera for this shoot with his new GB kit on. However, he's still dictating what he wants the images to look like with his mentor snapper Roddy Scott. Lanning, 17, revealed: "I remember that day vividly about going to see Tai at Leicester. He'd only won the World Championship in Torun just a fortnight earlier and still had a broken collarbone I think. My dad (Phil) had set up a shoot with Tai racing him in a new 5-litre Range Rover, like 500bhp against 500cc. The track was really wet and Tai insisted on racing side-by-side with the Rangie as fast as it could go into the corners with my dad driving, it was nuts!
"We went down with my sister and brother, Melody and Bailey, and my cousin Alex. Roddy was the photographer, and he was hanging out the boot of the car in front of Tai and my dad racing round.
"But that's where I got the bug for photography from. My dad was Motoring Editor of The Sun and Roddy did all the car shoots and I always went with them, it was such a buzz. At Christmas in 2012 my grandma had the idea to get me a camera because she thought I had an eye for it like my dad did at that age. But that was my first chance with Tai that day and that was it, I was hooked. I did a few car shoots after that but it wasn't until the Facennas came to Glasgow in 2015 that they gave me my chance to have a go at speedway when I was 13. To be honest, I was really surprised at how the pictures turned out right from the start. I thought I'd be rubbish, but they were okay. The first meeting was Glasgow against Newcastle and I loved every second of it. I was crazy nervous but James Sarjeant and his mechanic Enzo really helped me with confidence, I'll never ever forget that. It's just gone from there really, I haven't looked backed once or ever doubted this is what I wanted to do for a living."
Now he has been snapped up, literally, by Great Britain bosses Rob Painter and Vicky Blackwell to travel with the squad to the major events. Lanning admits it's the biggest moment of his short career. He said: "I wasn't expecting it at all. Rob, Vicky and Josh Gudgeon have been really supportive to me this year and they believe in me, and that means so much to me.
"This year has been amazing. I've had a few covers of Speedway Star in Jeff Davies' brilliant designs and now this. I have got so much to learn. It's been really hard at times because I'm having to learn yet produce images at every event for speedway or darts social media, websites and newspapers. I really can't afford to have an off-night, although annoyingly I have now and again.
"I'm very proud to be with Great Britain. I love the set-up of the team and how professional it is run. I also have so much to learn about preparation and organisation. I know I have to improve in areas and I know that Rob, Vicky and all the backroom team will be a great influence on me. I must admit I had tears in my eyes when I found out. I wish my grandma and grandad were still here to see me in the GB kit. It's been a really tough few years, we lost them both within 111 days at the end of 2016 and start of 2017. I really miss them both. I know they would be really proud of what I've done so far but also tell me to work even harder. My grandad first went to speedway for Poole's first meeting in 1948, it felt very special when I was there last season at Wimborne Road working as a snapper in the Play-Off final, 70 years after my grandad first went there."
Lanning has emerged as a very different photographer within the sport, receiving acclaim for his artistic way of shooting on the shale. He added: "There's so many ways to picture speedway, that's the most interesting thing. I love catching the mood of riders more than anything. But the options to make shots artistic are limitless. You can make them really stand out for social media, not just the normal first corner action picture. I like to be anonymous around the pits and catch off-beat expressions of happy or sad. But lately I've been trying loads of different angles and techniques. I like anything completely off-the-wall, that's the biggest buzz when something really different works. My passion is making sport look like art. I love the work of Marc Aspland from The Times, his photography is out of this world.
"I think I've been really lucky. I've had so many people help me from my family and some great photographers and mentors. Roddy is still there for me. It was very appropriate he did the shoot of me for GB, I think he's proud of where I've got to. Most of the equipment I've got is his old stuff! But I've also had Lawrence Lustig in darts and boxing who is an unbelievable snapper. He's also Anthony Joshua's personal photographer yet he's helped me so much as has Jeff Davies and Andi Gordon in speedway. They are very much my inspirations, all of them.
"Hopefully as I learn more I can bring some fresh ideas to Great Britain and to speedway. There's other great young photographers coming through, so hopefully the sport can benefit from new blood." Lanning also believes it will be interesting to grow up within the GB set-up with a new generation of potential World Champions. He said: "It will be awesome to be around the current team. Tai, Robert Lambert, Dan Bewley and Craig Cook have been brilliant to me. All my other mates like Kyle Bickley, Leon Flint, Tom Brennan, Drew Kemp and Anders Rowe are the next generation I will grow up with. The GB team really understand how important imagery, presentation and social media is to promote the sport for fans and sponsors. I want to make speedway even more eye-catching if I can, that's my ambition anyway.
"All the way along I've had people backing me like Gerry, Peter and David Facenna, they have been incredibly supportive from day one and treated me like part of their family. That's been so important. Natalie Quirk has known me since I was a little kid and always been an inspiration and Nigel Pearson has been a huge influence and encouraged me and been a really close mentor and friend. Scott Field from Team GB has also made a point of being helpful. It's the same in darts. I work for Nevada Sports Management who manage four World Champions including Rob Cross. Rob has been a constant support as has Jon Archer from Nevada and Matthew Jeffery from sponsors SAP." For GB Speedway Team, Taylor hopes his pictures will paint a thousand words!