GB Stars Deliver Peak Performance
Great Britain team boss Olly Allen was delighted with the "concentration and application" of athletes at the latest GB Performance Camp.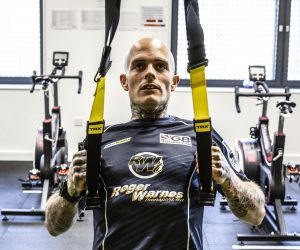 Images courtesy of Taylor Lanning Photography
The latest generation of red, white and blue two-wheeled heroes were put through their paces for the most state-of-the-art conditioning any British rider has ever received by the national team in Speedway.
As part of the 'Tracking Success' programme the theme for the event was Peaking for Performance. They were given fascinating insights into top sportsmen and women to how they reach optimum focus for just a minute of action, exactly the same as they have to on the shale.
Top Premier League Newcastle footballer Matt Ritchie, British gymnast Kelly Simm, England cricketer Kate Cross and top sailor Bruce Keen all joined the camp as speakers in Southampton.
A selection of GB squad and GB Academy members were part of the training weekend including Charles Wright, Kyle Howarth, Lewis Kerr, Drew Kemp, Tom Brennan, Anders Rowe, Jordan Palin, Dan Gilkes, Jason Edwards, Henry Atkins and Jordan Jenkins.
Allen admitted: "It's satisfying to see all our members interacting with the backroom staff and our guest speakers.
"Great Britain has never undertaken such a massive task in educating riders on every level of sport as an athlete. But the riders have to understand and be willing. I definitely feel that the concentration and application of all involved is the biggest first step we are looking to achieve.
"We have a lot of levels to go up to compete on the highest stage in world Speedway. All the boys now realise what it takes, the sacrifices. They can all look up to Tai Woffinden, Robert Lambert and now Dan Bewley performing on the biggest stages.
"This year will see the biggest operation Great Britain has ever delivered in terms of events, Academy days and major international race meetings. We are gaining more confidence and investing more time in the current and next generation. It's hard work but the results, we believe, will be worth it in the long run."