Gilkes keen to continue forward momentum
With a wise head on young shoulders, 18-year-old Dan Gilkes says he is determined to improve even further after recovering from injury to have a stellar 2019 season.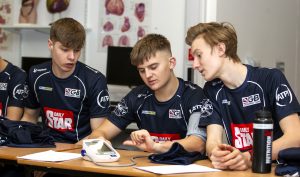 Image courtesy of Taylor Lanning Photography
Gilkes will ride for Kent Kings in the SGB Championship in 2020 and is being realistic with his aims for the upcoming season.
He said: "I've never had any points goals in particular because I'm not at the stage where I need to. I just need to try and improve each meeting and if that happens, the points and averages will take care of themselves."
He'll be alongside former Great Britain Team member and Grand Prix rider Scott Nicholls at Kent and Gilkes sees it as a huge opportunity for learning.
"If you don't learn anything off a seven-time British Champion what are you doing?" Gilkes joked, "A big thing in speedway is bike setups and how you're riding but it's more learning the tracks that I haven't been to before to help get me up to speed a little quicker.
"I think this is the biggest step up in the British leagues from National League to Championship. There's a lot of top riders in the Championship, some ex-Grand Prix riders and British Champions so it's a lot different to riding in what is almost a youth league."
Gilkes rose from a 2.00 average in the National League to an 8.00 with the Kings in 2019 despite suffering an early season injury at Stoke. The weeks off the bike did nothing to quench his thirst for speedway.
He said: "I'd done three meetings that all went really well and I was learning every week. I was really enjoying it and getting into things, but then I went to Stoke and picked up an injury, nine weeks out after the start I had was difficult.
"It took me a few meetings to get back into things, I was still a bit rusty compared to everyone else but I managed to make it into the main body of the team which was a huge accomplishment."
Gilkes is one of a small number of riders to be a part of the GB Academy and also train with the senior GB team, he says the work they have done to help him stay in the loop and keeping fit in preparation for the start of the season has been invaluable.
Gilkes said: "I'm lucky to be involved with the GB Speedway Team and they've done a lot with us in Zoom meetings, physical training and psychology mainly that Olly (Allen) Simon (Stead) and the GB management team have been putting on to help us in lockdown."