Great Britain at home for SoN Final
Great Britain Speedway Team will have home advantage in the 2020 Speedway of Nations after being seeded to the final, which takes place at Manchester's National Speedway Stadium on May 8 & 9.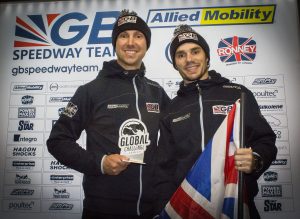 Great Britain will line up against six other nations, three qualifiers each from Rounds One and Two, in the two-day final as they look to end a 30-year wait for team gold at the same venue they won this year's opening round of the tournament.
Joint team boss Oliver Allen is delighted that the final will take place on home soil, and believes it gives his side a great chance of causing a shock, saying, "Obviously it's nice to be seeded straight to the final because the opening rounds are always tricky, and I feel like the track is really well suited to our riders too.
"We have one of the most exciting under-21 riders in the world in Dan Bewley and it's his home track, Charles Wright is excellent there and he will have some home track knowledge now too, so he will have a good chance to be involved if he starts the season well.
"Craig Cook rides the track really well, Robert Lambert won a British title there, Adam Ellis finished last season in great form - the competition for places is going to be really fierce for that second senior spot. It presents us with a great problem really.
"Of course we have Tai Woffinden and he's one of the best riders in the world and probably the best team rider in the world, so he'll be our leader and it looks good for us. We have to feel like this is a great opportunity for us to do something we haven't done for a long time, so we're already looking forward to it."
Allen also feels that the backing of the home crowd could be crucial, with the Brits enjoying a superb record in front of their own fans.
"The crowd can really give us a lift, the British fans always generate a brilliant atmosphere and I'm sure they'll get right behind us again. Our record in Manchester is pretty good and I have no doubt that having the fans behind us has contributed to that, so we want people to turn out in force and give the boys a push.
"We have the chance to do something pretty special, so from our point of view it's great news all round and we're looking forward to May."
The competition for places is going to be really fierce for that second senior spot. It presents us with a great problem really.

Olly Allen, GB Speedway Team Co Team Manager