JAKE HAILS FITNESS PUSH
JAKE MULFORD admits it's been vital to have Great Britain's support as he awaits a UK team place.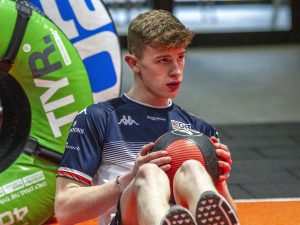 Images courtesy of Taylor Lanning Photography
The Norwich-born prospect has surprisingly been frozen out of a club so far for the 2022 season.
But Mulford, 17, joined up with the GB Academy Performance Camp last weekend in Bicester and is confident that his chance will come - and was happy to be worked hard by the experienced backroom fitness team.
He said: "It's my second Performance Camp so far and it gives you a good idea of how professional the training is. Then I can take that advice back with me and give it 100 per cent effort when I'm back home. It's good being part of it.
"I'm already fairly fit but it's definitely hard at the Performance Camp. It gives you a good idea of the standard and type of fitness I have to work on to be an elite sportsman."
Mulford has shown bags of potential racing for the Kent Kings but believes backing from GB will help boost his confidence.
He added: "I want to take that extra step but it's hard not having a team so far for the 2022 season. That's why being with Great Britain has been vital to keep my belief and confidence high.
"So when I do get the chance to race I will have an opportunity to prove what I'm capable of and maybe get into a team.
"It's frustrating to be on the edge. But I'll just keep working hard to get my chance.
"Over the weekend I worked on fitness strategies with GB. By the time the season starts I will be ready to go.
"It's hard mentally to prepare. The main motivation is obviously when you have a team. You are just left floating on the edge until something happens for you.
"That's why it's been so good to be with the Great Britain Academy. It's helped me in every aspect.
"There's no team that keeps the same seven riders. So I will have to wait for my place. I'll be ready for when that happens."