JOR READY TO SOAR
JORDAN PALIN believes the ultimate key to success with Great Britain is by working hard.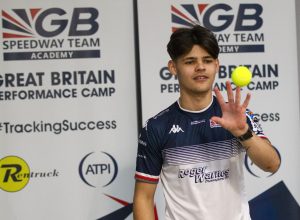 Images courtesy of Taylor Lanning Photography
The hot prospect made an incredible impression in his first season in the Premiership by taking the title with Peterborough.
Palin,18, now embarks on his second full-time campaign with even more determination having watched GB win the Speedway of Nations.
Talking at the recent Academy Performance Camp, he said: "It's been great to be back with Great Britain. It's been a long winter of training and it's good to see your mates again. There is a good bond in the Performance Camp, it's fun but also serious stuff.
"The one thing you can't buy is experience. There is so much of that in the Great Britain set-up. There's also so much knowledge and know-how. I feel lucky to have that at my disposal and I am constantly learning whenever I'm around the backroom team.
"Last year thinking of winning a gold medal would have been a dream. Now it feels like I'm getting one step closer every season. It was brilliant to watch us win the Speedway of Nations last year.
"I was at the National Speedway Stadium and I think all the boys realised that suddenly we can do it. If you get your head down and keep working hard, get that experience and it's all possible."
Palin returns to the same clubs in the Championship and Premiership with Scunthorpe and Panthers with the domestic season beginning in less than a month.
He added: "I feel much better coming into this year, last season I felt like I was wandering into the dark a bit.
"I now know who I'm riding against and the level I need to reach in every meeting. Now I'm more familiar with the set-up and the amount of meetings I need to do during the year. I've adjusted to that now.
"I think my main goal is just to keep progressing slowly but every time I go out on the bike. The main thing is also to stay injury-free. I felt I did OK at that last season barring one incident. It's all about rolling and keeping going in the direction."