Leon prepared to wait for Premiership chance
GB youngster Leon Flint says he's fully aware of the risks in graduating to the top tier of British speedway and is determined to make sure he does so at the right time for him.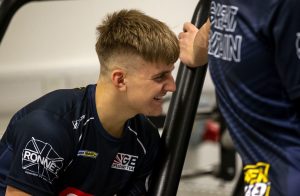 Image courtesy of Taylor Lanning Photography
The 18-year-old, who will race for Berwick in the Championship League in 2020, says he's seen it happen to talented riders before and he doesn't want to be another.
Flint said: "It'd have to depend on the situation. If I did get an offer I would definitely take it in, I'm not saying no if a club needed a rider and thought I was up to it. But I didn't go into this year thinking I was going to get a Premiership spot because I don't think I'm ready.
"I've seen it happen to too many riders where they take the jump early and it's downhill from there, confidence is knocked. I think I'll know myself if I'm ready or not and right now I don't think is the best time for it."
A good season with the Bandits and the Belle Vue Colts in the National League led to Flint being selected for Great Britain's tour down under against Australia in January where he scored 9 and 5+2 respectively in the two test matches between the sides.
Speaking about the whole experience, Flint said: "One of the biggest things I learnt was more life skills, washing my clothes and doing my bikes by myself.
"Christmas was a difficult time being away from my family for the first time but my dad did come and surprise me for the final two weeks. It was funny being down on the beach on Christmas day, it wasn't a normal one for me that's for sure but I'd happily do it again."
"Racing against Tai (Woffinden) in an individual meeting was pretty special, I managed to out-gate him once and was beating him for nearly a lap, so I'll take that to my grave if I don't get to that standard!"
The extended break from racing due to COVID-19 has been tough for many and Flint explained how the lack of racing affects his whole family.
He said: "I've found it really hard. Me, my dad, my grandad, speedway is our life. The hardest thing for me was being in that community every Saturday night and now I'm sat not doing much and I'm not able to go and see people or do certain things.
"We did have a practice at Berwick not so long ago so that was nice to see everyone, but the last week or so I've not felt great with not getting a date for work and gyms not opening."
Off the track though, Flint finds himself as one of speedway's busier young talents, training to be a licensed gym instructor and being a lifeguard means he's always got something to be doing even when the bikes in his workshop are silent.
"I somehow manage to do what I need," Flint said. "If I'm riding hours and hours away I'll do a half day and I have always managed to make up the hours.
"I might be on one of the longest apprenticeships ever, it was only supposed to be a year and that's nearly up and I don't think I'm even halfway!"