McGurk confident of good Youth Championship result
Improving meeting on meeting, 16-year-old Harry McGurk was raring to go before the 2020 league season was cancelled, but he is still making the most of whatever racing he can find.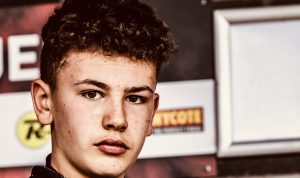 Image courtesy of Taylor Lanning Photography
McGurk experienced his first year of National League racing in 2019 with the Cradley Heathens and admitted that he struggled to adapt at first, but that his confidence only grew as the year progressed. He said: "First year in the National League was difficult at the start, but my confidence grew throughout the season and by the end I was doing better, although I still wasn't scoring many points.
"I was beating better riders later in the season but you've got to take the losses to learn but I don't like losing! I won quite a lot on 125s and on 500s when I first started but when you come up against people who have been riding for a lot of years it's not easy."
2020 looked like it would only continue that upward trajectory as he had signed for the Belle Vue Colts in the same league, but he is still confident that he will ride for the Colts next year. "I had everything sorted out from my point of view for Belle Vue." McGurk said, "I had a new engine over the winter to help me out round there. I was really looking forward to this season, especially after press day when it seems so close for it all to be cancelled. Mark Lemon said to me that he's 80% sure he'll keep the same team next year but we have to wait to see who retires or wants to move on to be sure."
He is one of the fortunate riders to have still had some competitive racing this year in the British Youth Championships which has followed his patterns from 2019. With two rounds to go, McGurk is keen to make that final step up and challenge for victory at Edinburgh on Saturday.
He said: "It's been good, Scunthorpe was a bit tricky with a crash in my first ride which meant I missed the final. I had a good meeting at Leicester but I got excluded after I got taken off. But Kings Lynn was good finishing second in the final and hopefully I can go for the win at Edinburgh."
Alongside him in the British Youth Championships is his younger brother Sam, who is in his first season of 500cc racing. Harry talked about how he likes to help his brother, but only when Sam is behind. McGurk said: "It's weird because I'm always trying to help him out with stuff but if I'm behind him I think 'I shouldn't have taught him that'
"I always know he isn't going to be hard on me so I can bully him around a bit more. He usually copies my setup but he goes two teeth up on the back so his engine can spin more. He likes his engines really revvy but I hate that so I have mine quite flat"
McGurk will also compete in the British Under 19 Final at Scunthorpe and he is confident he can do well with his experience of the track. He said: "I think I can do well because it's Scunny (Scunthorpe) and I ride there every week. I've got another new engine which should pull a lot better and I can score some good points."