Jordan Palin - Fit, ready and eager for racing!
After an eye-catching first year in professional Speedway, 16-year-old Jordan Palin would've been perhaps the most watched rider in the Championship had the 2020 season begun.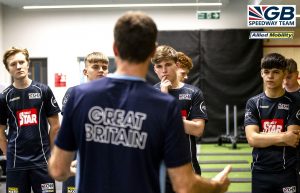 Image courtesy of Taylor Lanning Photography
Palin spent his maiden Speedway season with the Belle Vue Colts in the National League and rapidly rose from reserve to number one as he set the National Speedway Stadium alight. While many riders were left eating his dirt, he admitted that becoming number one in his first season wasn't the plan.
Palin said: "I didn't even plan 50% of that season. To come out of 2019 as number one in the team at National League level was a big achievement. I only wanted to get to the main body initially starting at reserve but being number one in the same team as Kyle (Bickley) and Leon (Flint) was great. It was definitely more challenging being in such a good team but at the same time it made the achievement of reaching number one all the sweeter. I certainly landed lucky signing for Belle Vue in the National League, it's a great setup there with the riders and staff. And the track is one of the best in the country as well."
Both Bickley and Flint have multiple years of experience on Palin and despite being young themselves, they helped the man from Beverly to improve at an accelerated rate. He said: "They gave me tips about the mistakes they made in their first year and helped me not make those mistakes. They're still young themselves but they were still able to help me with setups and riding styles at different tracks which helped a lot."
What makes his achievements all the more impressive is that he was doing all this while having school to contend with.
Palin said: "I wasn't really the best at school so I probably focused more on my riding than the schoolwork but I did knuckle down eventually and got everything done that I needed to. Going forward now I can put 100% of my effort into my riding rather than 99%. It just gives me one less thing to worry about."
The extended break in racing has led to many riders twiddling their thumbs with what to do with themselves, but Palin has used the time off to good effect and says he is as fit as ever ready for the British Youth Championships.
He said: "I'm probably the fittest I've ever been with the amount of training I've been doing and the Zoom meetings that GB have been putting on. The best part of the meetings is just seeing everyone as we've been locked down. It's nice to have a chat while we're doing the exercises."
As well as riding, it helps that Palin enjoys getting his hands dirty with bike maintenance to help tide him over until he's back racing. "I love spending hours in the garage cleaning my bikes." Palin said, "I'm looking forward to getting it dirty so I can take it all apart and put it together again, I love that part of speedway."
He will make the jump up to the Championship for 2021 – He would have been with Scunthorpe in 2020 had the season not been cancelled – and feels that he is ready for the jump despite his lack of experience. Palin said: "I'm ready for the jump, obviously I'm not going to have such a good season as I did in the National League because it's a completely different ball game in the Championship. I just want to be consistent and injury free and keep improving slowly rather than going up and down from track-to-track."