PARTNER FOCUS - Roger Warnes Transport Ltd
Roger Warnes Transport was established nearly 50 years ago in Great Dunham, Norfolk where our head office and a proportion of our 100 strong fleet remains today. The remainder of the fleet is based in our more recently acquired King's Lynn depot along with the sister company Warnes Commercials Ltd.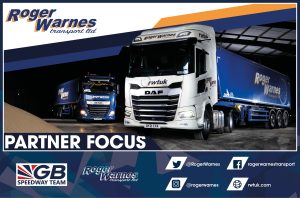 Roger Warnes Transport offers a complete service to the agricultural industry offering everything from sugar beet, grain and liquid fertiliser haulage to grain and sugar beet pulp storage. We also specialise in the distribution of aggregates across the UK and enjoy "preferred haulier status" to the largest mineral supplier in the world today. The fleet consists of a mix of articulated tippers, rigid tippers and articulated moving floor vehicles. The majority of these vehicles and all of our storage facilities comply with TASCC standards allowing us to transport and store crops of grain, oilseeds and pulses. We also operate vehicles outside of the TASCC standards to allow us to carry products such as household waste or chicken litter.
Find out more at rwtuk.com or for an introduction to Roger Warnes Transport, contact vicky.blackwell@gbspeedwayteam.com
Social Media
Facebook: rogerwarnestransport
Twitter: @RogerWarnes
Instagram: rogerwarnes