PARTNER FOCUS - Steel Seal
Steel Seal is a unique mixture of chemical compounds that have been specially blended to react under sufficient heat and pressure to create a hardened seal in the damaged area of a head gasket or block.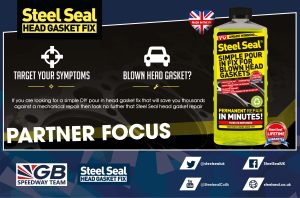 However there are lots of products claiming the same thing.
While there are other products that claim to repair a blown head gasket in a similar way to Steel Seal and these products are predominately comprised of little more than Sodium Silicate and dye.
Unfortunately, while using Sodium Silicate will initially seem to fix the issue, Sodium Silicate is also commonly known as 'Liquid Glass' or 'Water Glass'. The reason for this is that Sodium Silicate once heated and cooled down will harden to a glass like substance. This substance cannot possibly stand up to the heat and pressure within the engine and this 'seal' will eventually break and the problem of the blown head gasket will return.
99% Success Rate
No one is perfect and no head gasket repair product can (honestly) boast a higher success rate than Steel Seal. A truly viable alternative to a mechanical repair.
Money Back Guarantee
We are so confident in Steel Seal and its ability to repair a blown head gasket we offer a 30 day money back and replacement bottle lifetime guarantee.

Technical Support Team
Have your own personal mechanic assist you every step of your repair. All of our Tech team have to pass a course to ensure you get the best service.
Award Winning
Steel Seal has won awards for Best Product and Best Supplier from prestigious automotive retailers and as the formula improves will continue to win many more in the future.
Often copied never bettered, always ensure you purchase from an Authorised stockist
Find out more at steelseal.co.uk or for an introduction to Steel Seal, contact vicky.blackwell@gbspeedwayteam.com
Social Media
Facebook: SteelSealUK
Twitter: @steelsealuk
YouTube: @SteelsealCoUk