PARTNER FOCUS - Van and Kombi
Van and Kombi is a partnership between two companies that saw a gap in the market and decided to evolve their existing business models to supply VW Transporters for rental, lease and for sale.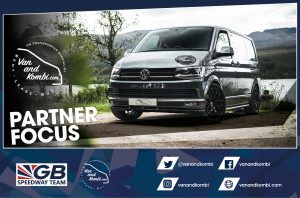 The interesting thing is Van and Kombi wouldn't exist without Speedway and more specifically
GB Speedway's very own Simon Stead.
The two companies behind the brand are Rentruck - the well known Rochdale based GB Speedway Team and Belle Vue Aces sponsor owed by Richard Cotton. The other, Sheffield based prestige vehicle retailer Westbourne Professional, owned by motorcycle rider and enthusiast, Oliver Twigg.
Rentruck have been renting vans to Speedway riders for over a decade, and in 2016 had a fleet of brand new VW Transporter T6 vans available to rent. Coincidentally 2016 was Simon Stead's last riding season at Sheffield Tigers and he had a van on order from Rentruck. At the same time Oliver at Westbourne Professional was searching for a rental deal on a van for his own trials and enduro riding, which lead to his friend Simon suggesting he speak to Richard at Rentruck.
At the end of the season, Oliver purchased the van and after some upgrades, Westbourne sold it from their dealership. This lead to Westbourne agreeing to buy the majority of the 2016 season vans from Rentruck, and consequently the two companies working together to develop the Van and Kombi brand.
In addition to rental and sales of vehicles, Van and Kombi also offer upgrade packages for both rental and sales customers. These include Exterior Pack including 20" wheels, front and rear spoilers, sports suspension and much more. Inside you can specify leather seats, suede lining and LED lighting. The range of Transporters includes everything from a manual panel van to a 4 wheel drive, 200bhp Kombi with more extras than most cars and a price tag to suit!
Fast forward to 2019, and before the Covid pandemic, Van and Kombi went from strength to strength, supplying over 250 new VW Transporters per year - with the Rochdale office administering the customers and rentals and Sheffield dealing with the upgrades and sale of used Transporters.
They have really focused on motorsport and two wheels to build their business with motorcycling legends John McGuinness and Dougie Lampkin taking on the role of brand ambassadors and sponsoring professional athletes including 7 times World Trials Champion Emma Bristow, BSB rider Danny Buchan and UCI Downhill Mountain Biker Joe Breeden. Last but not least Van and Kombi also support GB Speedway Team with a high specification Kombi and another to Tai Woffinden when he is in the UK.
Since Covid-19, Brexit and now Ukraine, it is well published that all new vehicle supply has been drastically reduced. This has had an impact on the amount of new vehicles Van and Kombi can supply for the foreseeable future they are unfortunately not able to offer rental / leasing to new customers.
Van and Kombi are now focusing their attention on the sales and upgrades. Used VW Transporters for sale on the Westbourne Professional website www.wbpro.co.uk and their upgrades are listed at www.vanandkombi.com. Going forward they hope to be back to 2019 levels of supply by 2024 providing the supply of vehicles from VW is restored.
For an introduction to Van and Kombi, contact vicky.blackwell@gbspeedwayteam.com