Psychological work key to Kemp's step up
Drew Kemp is one of Great Britain's brightest young talents, but 2019 was not the year he had been hoping for.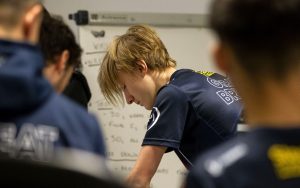 Image courtesy of Taylor Lanning Photography
Stepping up to the SGB Championship for the first time, Kemp struggled riding at number two for the Sheffield Tigers and his high expectations caused some mental blocks for the 17-year-old. But he admitted this was an issue and took it upon himself to speak to a psychologist to try and resolve his issues.
Kemp said: "I wouldn't say it was my best season domestically, I struggled in the league racing and I struggled week in week out mentally. I was at number two for Sheffield and not doing that well and it snowballed into my National League form. I knew that the mental side was what I was struggling with so I started working with a psychologist and I still am now.
"I had Steady (Simon Stead, GB Speedway Team Manager) and everyone at Sheffield helping me try different things until something worked. Speedway is very much mental; your mental strength is as important as your physical strength. Especially when times are tough it's really important. I've seen riders with big potential step away because of the mental blocks they suffer."
Despite these issues in league racing, Kemp was still able to become the British under 19 Champion which added a sliver lining to his season. He said: "To come away as Under 19 champion after the season I'd been having was very good."
Kemp was one of a number of young riders to make the trip to Australia over the winter in preparation for the now cancelled 2020 season. He enjoyed a good time down under and rode well for GB in a two-match series against Australia where he scored 9+2 and 8+1.
On the experience, Kemp said: "To have such good meetings for GB has just boosted my confidence massively for this season. Even in the time since Australia to now, I feel like I've learned just as much in that time and I'm in an even better position as a rider."
2020 was due to be a big year for Kemp with a step up to the Premiership with the Ipswich Witches but coronavirus has since curtailed those plans. Speaking before the announcement however, Kemp was keen to stay grounded after his 2019 difficulties.
He said: "I'm quite confident stepping into that league. I think I wanted too much too soon last year and that's why I got disappointed. I know this year is going to be tough as much as I want it to be easy. I've just got to set myself small goals each meeting and focus on them before getting too ahead of myself. Everyone wants to move up in the team but my first year is all about learning."
Still very young, Kemp has had plenty of help throughout his career and is relishing the opportunity for future learning in the future. He said: "A lot of my equipment has improved since I started working with these people and I even spent a night at Danny's (Danny King) last year and looked at his bikes with his mechanic to learn what I could. Having Steady help me at Sheffield was amazing with the track experience he has there. And being with Tai in Australia, everything he does you can learn from, not even on track as such just little things."