RICH PICKINGS - Worrall aims for GB 2023 squad…
RICHIE Worrall believes he can rise to "the big occasion" after an excellent return to the Great Britain set-up.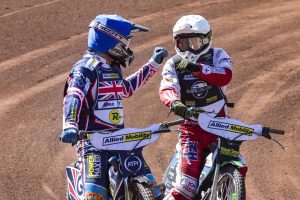 Images courtesy of Taylor Lanning Photography
The 30-year-old produced a classy 10 point return in the recent Global Challenge Series clash at Ashfield.

It's was Worrall's first appearance in a test match for his country and included a hard-fought race win over Grand Prix winner Max Fricke.
He admitted: "I wasn't expecting the call to be honest. I've not done a great deal with GB for a couple of years.
"There is something about riding for GB, something very special. I do feel I am the sort of rider who rises to the big occasion. So I wanted to grab the chance with both hands.
"My performance and to be part of Great Britain again has given me a massive boost."
Worrall now hopes he can force his way into GB plans for the World Cup in 2023 which returns to a five-man team format.
GP stars Tai Woffinden, Robert Lambert and Dan Bewley are naturally guaranteed picks but there are still two places up for grabs.
Worrall added: "I had a really positive chat with Rob Painter about plans for next year so much good has come out of it.
"I had a lot of fun on the bike, which is the main thing for me. We lost sadly but it was a good day out. Sometimes the overall result doesn't matter, it's about other riders getting opportunities and I was happy to be part of that.
"Test matches are there to figure things out before the real deal of Speedway of Nations and World Cups.
"I feel I did well and put myself in the shop window. It was actually one of my better Ashfield performances."