SKY'S THE LIMIT WITH ATPI
GREAT BRITAIN'S track success will only grow bigger because of youth development, according to ATPI boss Ian Sinderson.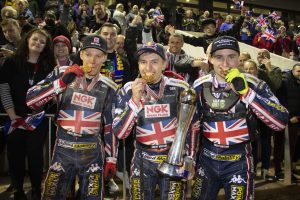 Image courtesy of Taylor Lanning Photography
The national side won the world crown for the first time in 32 years with victory in the Speedway of Nations last October.
But ATPI CEO Sinderson, a hugely-influential partner of Great Britain, believes the next generation can bring even more glory.
He said: "ATPI are very proud of the success enjoyed by Great Britain in a very short space of time.
"There has, naturally, been a lot of focus and excitement around winning the Speedway of Nations in Manchester last year.
"But it's a building process. We must not overlook the plethora of podium places by the Under-19 and Under-21 teams on the world stage. They are the next generation.
"We have worked extensively on the Academy since day one of the new GB regime under Rob Painter and Vicky Blackwell.
"The fruits of that labour are now beginning to arrive. Both Dan Bewley and Tom Brennan were part of that Speedway of Nations win in October.
"Then you look at the next crop of riders, it's exciting that they've had so much knowledge given to them by the backroom team over the past four of five years.
"I firmly believe the best is yet to come. Speedway is an extremely tough sport, there are some great nations out there also with excellent youth systems.
"But Great Britain is now at the top table in the world again and showing that all the riders can compete at the highest level."
Sinderson was also quick to acknowledge that ATPI are delighted to be connected to such a successful squad and backroom team.
He added: "Rob and Vicky are first class to work with. ATPI have enjoyed a terrific partnership and benefited greatly.
"This can only go from strength to strength. We both have similar targets and methods for business. The future is very bright."