Speedway of Nations 2019: Inside The Camp
The Great Britain Speedway Team have returned from the two-day Speedway of Nations Final in Togliatti, Russia, and we wanted to give you an exclusive insight into just what it takes to make these events happen.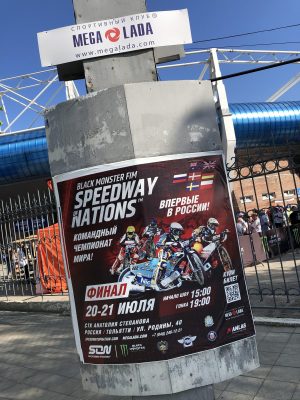 First and foremost, we want to send our sincere congratulations to Russia for successfully defending the title on home soil, and winning the Final in front of their own supporters will have made the achievement all the more special.
For ourselves, the journey began with the 16-strong travelling party departing from Manchester, London and Berlin with connections at Helsinki and Moscow before all arriving at Samara on the Friday before the race meeting. Following extensive research the Great Britain team were based at the Lada Resort Hotel which was an exceptional facility built for the 2018 Football World Cup and home to the Swiss National Team at that event. However, the events of Great Britain's weekend were to be defined by the first running of Heat 4 and a pure racing accident involving our two riders Craig Cook and Robert Lambert.
In all of the nightmare scenarios which could have been envisaged, this is top of the list for every nation competing at the Final. Naturally the immediate fear was that both riders would be withdrawn through injury.

At the time, it was clear that Craig had sustained a wrist injury (it has since been confirmed that he has broken a bone in his wrist) and it is testament to the work of the Great Britain performance and physiotherapy team, as well as Craig's own determination, that he returned to the race meeting in our fourth outing – a highly unusual situation for a rider who has sat out two races due to injury – and notched good points, including a race win in his last ride.

Robert had also bravely raced on following the crash but it was clear after his third ride that he would not be fit to continue, although we were extremely hopeful that after a night's rest and further treatment he would be able to resume on Sunday.
It looked like this was going to be the case, but as the day continued Robert experienced reduced mobility in his neck, and it was the view of both our professional performance team and of Robert himself that he should not attempt to race.

The aim of the performance staff is to get the riders into ideal condition to compete, but we also have a duty of care to the riders – and also to their fellow competitors on-track – and on this occasion it was felt that the risk was too great.

Robert's withdrawal was communicated later that afternoon in line with FIM protocol, which required him to go through an examination at the track with the official event doctor before he could be signed out of the race meeting.

We would like to pay tribute to our performance team for their work with all three riders – Craig, Robert and Chris – over the weekend in what were at times very trying and unexpected circumstances. They did a superb job and it just highlighted what a huge benefit it is to have such talented people working within the Great Britain team.
Unfortunately the option to take along a standby rider wasn't possible due to the timings and logistics required to get their equipment into Russia. With Tai already ruled out through injury, Dan Bewley was the 5th and final member of the official five man Speedway of Nations squad, so consequently the only additional rider with a valid visa to enter Russia over the weekend.

To give a greater insight of the logistics involved for transportation of all equipment for the weekend, we worked very closely with the organisers to ensure the guaranteed safe delivery of our riders equipment across borders and through customs. All bikes and equipment had to be delivered to Torun, Poland prior to the event where they were packaged in crates before being transported to Togliatti. Each team was allocated three crates – one per rider named in the starting line-up. The crates were large enough to transport two bikes plus toolboxes and additional equipment... a random fact - as a team we used 20 rear tyres at this event!
We did request to be allocated some extra space in order to send more bikes/equipment but this could not be confirmed until after our deadlines had passed, which unfortunately made it impossible to get Dan's equipment to Torun in time to join the shipment to Russia.

The prospect of asking any rider, especially an inexperienced one, to race in any competition - particularly a world championship level event - on borrowed equipment would be wholly unprofessional and we feel this goes completely against the ethos of what we are trying to achieve. Dan would have been forced to race in a top-level world championship race meeting for the very first time on a track he has never been to on another riders' bikes. We don't think that would have been beneficial either to the team or to Dan, who we believe has a massive future at the highest level. We couldn't expect him to do himself justice in those circumstances.
The only nation to have additional riders and machinery available at the event were Poland, who made the risky decision not to take the suggested transportation methods, meaning they had a greater risk of not getting their bikes or equipment across the border into Russia. This decision did mean however that if successful they were able to make a replacement on Sunday, to replace an injured Maciej Janowski.
Despite a complex logistical exercise of moving people and equipment over recent weeks, we cannot praise ATPI, our official travel management partner, enough. They have done a truly outstanding job for us throughout the extensive visa process of getting to Russia, and they are a hugely valued partner and one that we couldn't do without. We are also fully behind and supportive of the FIM and BSI with their desire to take the sport to new countries and new venues, and hopefully open up new markets. As a venue and stadium including the Lada Resort where we stayed, we found Togliatti to be very welcoming and helpful.

Sunday's meeting was the culmination of a lot of different problems, with riders going through the pain barrier, and ultimately it was a day to forget. Any nation being stripped of two riders of the calibre of a three-time World Champion and another who has become a Grand Prix regular is going to find things virtually impossible, and unfortunately it was us who was left in that unhappy situation, despite the efforts of all concerned.
There was very little more that any of the staff – team management, performance staff, riders or the hard-working mechanics who were at the track for most of the weekend – could have done in such circumstances, and maybe the positive to take out of the event was the way in which the whole team pulled together and did everything possible – exactly as we had envisaged when this journey began.
We have to remember that the journey is still only 18 months old, and already we have experienced completely contrasting fortunes in two Speedway of Nations events. As far as this year is concerned, we can still look back on a hugely successful series opener in Manchester, as well as the achievements of the Under-21 team with their silver medal in the recent FIM Team Speedway Under 21 World Championship Final.

We all knew that it would be impossible for things to change completely overnight – but the building blocks are there for the future, and there is bright talent coming through the ranks as long as they continue to apply themselves correctly. We will give them every opportunity to do so and support them in every way possible, we hope that the fans will back them, and us, all the way.

Setbacks like those of the last weekend only serve to re-double our determination to succeed and we are as confident as ever that we will get to where want to be.

The support over the weekend, and in the 18 months since Great Britain Speedway Team ushered in a new era, has been amazing and we want to thank you for that.

Stick with us and enjoy the journey – because we can't do it without you.