Tai sits out July
Great Britain Speedway Team captain Tai Woffinden will be sidelined for at least another month, meaning he will miss the 2019 Speedway of Nations final in Russia in July.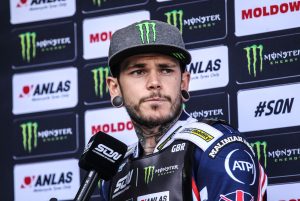 Current World Champion Woffinden injured his shoulder and neck in a crash racing in Poland in early June and has undergone extensive treatment ever since to try and get back on the bike as soon as possible.
Despite making excellent progress, Woffinden is still at least a month away from a track return and will continue his rehabilitation throughout July.
He told gbspeedwayteam.com; "My neck still isn't healed and I need longer to get everything back to how it should be. I'm working really hard, I'm probably busier now with all the treatment than I am when I'm racing, but I need another 4-5 weeks before considering coming back.
"I am gutted that, as well as missing some important matches for my league teams, I won't be able to race for Great Britain in the Speedway of Nations later this month. I was desperate to play my part to try and push us one further than last year but it's not possible.
"I will be watching the boys and cheering them on, I know whoever heads out to Russia will give it everything and I would love to see them come back with a big result. For now, I'm just focussing on getting back healthy again and trying to have a big end to the season."
Team boss Alun Rossiter will assess his selection options for the final in the next week, with an announcement in due course.
Great Britain Speedway Team wants to wish Tai all the best in his recovery and hopes to see him back on the bike soon defending his world championship.
"I will be watching the boys and cheering them on, I know whoever heads out to Russia will give it everything and I would love to see them come back with a big result. For now, I'm just focussing on getting back healthy again and trying to have a big end to the season."