TAI - SUSTAINED GROWTH
TAI WOFFINDEN wants Great Britain to show "sustained growth" after winning gold at the Speedway of Nations.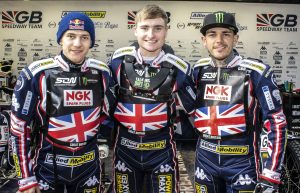 Images courtesy of Taylor Lanning Photography
The three-time World Champion has been a prominent advocate of delivering a proper structure for the national team.
Woffinden, 31, continues to be a sensational leader for the latest generation of red, white and blue track stars. But he now wants those young prospects to step up to the plate.
He said: "The Speedway of Nations win was a big moment, no question. But it's a stepping stone. We don't want to be a country that wins every 30 years. It needs to be sustained growth.
"That takes a lot of groundwork. I know that's being put in by Rob Painter and their partners like ATPI. There's a structure, a plan, and know-how. All the things that were lacking for far too long.
"The Speedway of Nations win came quicker than expected. GB were at least a decade behind Poland before Rob came in. There's been success on all levels but I know the demand and passion is to go further and keep building.
"All the next level of guys coming through have got to want it. There's lots of promise and potential. GB have given them all the best possible platform, in my opinion. It's slick, well-run, proper business professionals. That's how success happens, it doesn't happen by fluke.
"But the next generation now have to put the work in, show the hunger and keep pushing. It's a long process and a lot of ups and downs."