The Bronze Brits: Tom Brennan
At just 19 years of age, Tom Brennan has been more fortunate than most after travelling what seems the whole of Europe while hanging off the side of a Speedway bike.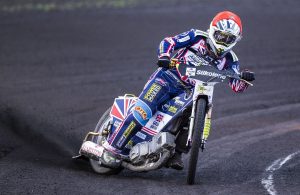 Image courtesy of Taylor Lanning Photography
Experiencing racing on the continent for the first time, Brennan has risen to the challenge at every meeting to further prove his credentials.

His performances saw him called up to represent Great Britain for the first time in the FIM Under 21 Team World Championship in Denmark where he scored seven points in helping GB to a Bronze medal.
An impressive result for the Eastbourne Asset, especially on his international debut.
"Just to be a part of the whole Great Britain setup was unbelievable," said Brennan, "It was a bit of a shock to get the call up because I hadn't had that many meetings beforehand.
"I can't thank everyone involved enough for the opportunity."
To make his challenge even harder, persistent rain throughout the day building up to the final caused track conditions to become very tricky for all riders, even those with substantially more experience struggled at times.
But even with no practice beforehand, Brennan oozed confidence and could have come away with even more points than he managed.
He said: "I went out for the track walk and it was very wet. Practice was cancelled too which didn't help but the track looked very different, extremely tricky in fact, but all of us were in the mindset of 'Let's go and see what we can do'.
"The track ended up being really nice for about half the meeting before it became a bit rough but it was fine in the most part."
"I had some bad luck at times, my fuel pipe came off while I was in second place in one race, but to come away with seven points was a bit more than I expected. It was a great experience."
Brennan impressed GB U21 Team Manager Neil Vatcher and since then, the Swindon-born teenager has been riding all around Europe, often with the GB badge proudly upon his race jacket.
He said: "Surprisingly, the travelling has been quite easy which is good as there has been quite a lot this year, quite a lot of money too so I've been very lucky to have people help me to do so."
New experiences have opened the Eastbourne man's eyes to a new pathway in his Speedway career that could see him racing abroad just as often as here in the UK.
Brennan said: "The tracks abroad are so different and that's a large reason why I've been racing in Europe so much this year to build my experience on different types of track."
"It's a whole different ball game with your engine setup and your mindset.
"I went to Poland but that's completely different to Czech Republic, which is completely different to Denmark, which is completely different to France.
"The main thing is the tracks are much bigger out there and you have to ride them differently, which I got used to pretty quickly."