THE WRIGHT STUFF
CHARLES WRIGHT is aiming to resurrect his international career with a return for Great Britain.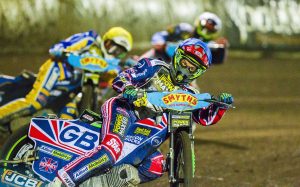 Image courtesy of Taylor Lanning Photography
The 2019 British Champion will line-up for his country on Saturday against the Rest of the World at Glasgow's Ashfield Stadium.
Wright ended his outstanding season three years ago with an excellent 10 point return in GB's win over Denmark.
However, Wright sat out the decimated 2020 campaign during the pandemic and has struggled to find his top level.
He said: "I now feel comfortable and happy with everything that's going on.
"At my age now people can either go two ways. But I want to push on and get back to my best.
"After 2019 I wanted to keep the ball rolling but then came the pandemic and last year was very tough for reasons off and on the track.
"It wasn't just having a year off, it was a lot of things. You try and put other things at the back of your mind but it's always there.
"I do feel better this year. I obviously want more and to be more consistent overall and my engines are better and I feel happier. That makes a big difference to how you approach the sport.
"There's a lot more for me to achieve. This is a chance again for GB to make a big impression."
Wright is now a force to be reckoned with again with several outstanding performances for Premiership giants Belle Vue.
With partner Leanne, he's announced that they are expecting their first child. He is also eyeing up delivering another British Championship on his home track at the NSS on August 1.
He vowed: "I'm fast as anyone at the National Speedway Stadium. When I hit the front I'm gone.
"I think the starting lets me down, I'm not consistent enough. I know I'm quicker than anyone on my day.
"The main aim is to win a second title and get back to Cardiff for another British GP. That's the target and I know I've got what it takes to do it."