Thompson twins still a team in individual meetings
It isn't very often you see twins that both possess the talent that can see them perform on the biggest stages of their chosen fields.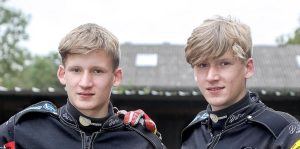 Image courtesy of Jeff Davies
But that is exactly what Dan and Joe Thompson are hoping to achieve as they race together, and against each other, to make their way in Speedway.
The Leicester pair are two of the few rides to be racing competitively in 2020 as they battle it out in the British Youth Championship. The Thompson's have been dominating the opening rounds with both Dan and Joe being almost flawless so far.
Speaking to us after the first round at Scunthorpe, Dan said: "I was a bit rusty first meeting back and touched the tapes in my first heat back which wasn't good, but I've found more speed since which is a step in the right direction."
Joe then added: "I've felt pretty good so far, scoring good points and finding the right setup for the track and the engine has been a good challenge for me."
Individual meetings like this are currently the only times the twins get to race against each other as rivals but they both maintain that doesn't change how they race or how they work together as a team.
Dan said: "It's just the same really, we enjoy riding together but when we're in individual meetings we race against each other as you would anyone else. We do help each other with setups so if Joe goes out and has a good race I can learn from that and implement it myself."
They are very fortunate that their very supportive dad, Darren, built them their very own dirt track which the lads are riding round more often than they're not. During the long delay caused by the COVID-19 pandemic, Dan and Joe were very grateful to have a track they could use whenever they liked to keep sharp.
"It's a lot more brutal than Speedway because there's no rules here." Joe said, "We just have fun and we have some really good racing there. We've had some other riders round to have a go and they seem to enjoy it as well. Because it's a smaller track, there's a lot more skill involved with quick passing and generally more action in each race."
Dan added: "It's definitely helped us through lockdown. When all the Speedway closed down because of the pandemic it was really hard as no one was getting any track time. But when we were allowed people round, we had Tom Brennan and Kelsey Dugard and a few others round, it was brilliant to see them and keep us race sharp. I've personally learnt a lot from doing that and I can use all of that in my Speedway."