TOM READY FOR MIND GAMES
GREAT BRITAIN star Tom Brennan has vowed to get his "mentality" right for another big year on the international stage. The Swindon-born kid is part of the national side for the first event of 2023 in the FIME European Team Final B in Pardubice.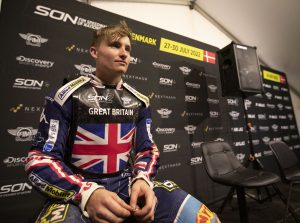 Image courtesy of Taylor Lanning Photography
Brennan, 21, will line-up with Dan Bewley, Adam Ellis and Richie Worrall in the Czech Republic for Saturday's meeting.
He has won Gold and Bronze medals in major finals for his country within the last two seasons and is naturally seeking to add to the collection.
Brennan said: "It's been a tough couple of years off-track. Speedway kept my mind busy but it's still hard to deal with everything life throws at you.
"I think the main thing for me is to enjoy myself. But I only ever race to win every time I'm on the track.
"This season I really need to work on my mentality. I still feel confident and still feel good.
"There are so many ways to try and figure it out. I've spoken to Jeremy Holt (GB Performance Psychologist) a number of times. But it still ultimately comes down to me, I try to work it out on my own.
"I just need to find the right method and what suits me individually, everyone is different."
Brennan admits he loves being part of the national side to learn from his team-mates on how to prepare.
He added: "It was good to be around Dan and Adam. They are experienced at the top level.
"It's always good to see how they work, how they approach meetings and situations. It actually seems to be very different to how I am at the minute.
"They seem so relaxed all the time. They are the same person 24/7 until the crash helmet goes on. That's something I need to learn quickly."
For the last couple of seasons it's been a constant upward trajectory for Brennan. A Gold medal and two race wins in Great Britain's stunning Speedway of Nations victory in 2021 and a Bronze in Speedway of Nations 2 last year.
But Brennan knows there's even harder work to come, adding: "I know I'm going in the right direction.
"I know there will be highs and lows and hurdles. In some ways the most important thing is how I deal with the tough times, not the good times. I know I will find the balance."