TOUGH JOB AHEAD SAYS BEWLEY
DAN BEWLEY admits it's about doing the "best job" with a tough racing schedule ahead. The Cumbrian ace produced the all-important last race win to book Great Britain's place in the FIME European Team Final.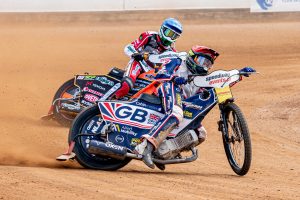 Image Courtesy of Steve Hone Photography
GB take on Poland, Denmark and Germany in Stralsund this Saturday in a bid to win yet another international medal.
Bewley said: "There's a lot of meetings ahead and it's tough. But you choose what you want to sign up for.
"I've looked at my calendar and there's a fair bit going on, but that was my choice.
"Now it's about doing the best job I can. I think I've got 15 meetings a month, that's literally one every other day for the rest of the season.
"People say it's a lot of meetings. I did think about it a lot. I didn't think it was anything extra to be honest.
"I'm looking forward to it, I've got a lot of gate drops. Hopefully we should make a few!
"I like bike time. We only race for five minutes a night. The only real thing is there's so much adrenalin and gate drops. That does take it out of you a little bit."
GB continue with the same team that secured the final place with Bewley backed up by Adam Ellis, Tom Brennan and Richie Worrall.

These are vitally important meetings and our improvement and standing on the world stage is the best it has been for at least three decades.

Olly Allen, Great Britain Team Manager
Team boss Olly Allen added: "The aim obviously is for the best medal we can get.
"Over the past five years we have collected so many medals and we are very proud of that.
"Most importantly, the European events give our riders so much experience on different circuits and conditions which prepare them for the world stage.
"Over the past few years we've seen Dan, Robert (Lambert), Tom and Adam really go up a level.
"These are vitally important meetings and our improvement and standing on the world stage is the best it has been for at least three decades."